With summer around the corner you need to get your wardrobe in line. No need for big, heavy boots anymore. A replacement for the right summer footwear is needed. Are you secretly a shark or merman, or just simply one of those people who spend every waking moment next to water when it's above 40 degrees? Then you're reading the right article. In today's age of sneakerheads, one must have the right shoes for such a lifestyle. This list is never an easy feat considering the vast variety of brands in the market. So throw on a pair of swim trucks and see what matches you best! We have made it easy for you by rounding up some of the top best-rated men's water shoes 2017.
[toc]
Top 10 Best Water Shoes for Men
10. Reef Fanning Prints Speed Logo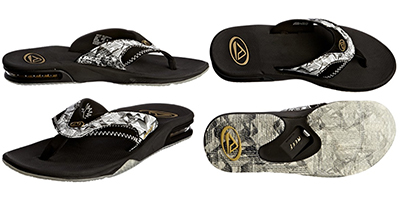 This is a classic looking water resistant shoe that is often mistaken for sandals. Unlike the common closed watershoe, this is a flip-flop/sneaker combination. The design is largely inspired by hot, summer weather and addresses the common problems with shoes in summertime, such as sweating and bad odour from the feet. It's made of a water-resistant material, and the flip-flop design ensures that both your feet and the shoe dry rapidly once out of water. It is undoubtedly one of the greatest shoes for beach walks, and you can also wear them when you get up to any nightlife as they are a truly fashionable shoe despite being made for water.
9. Teva Omnium Closed-Toe
Tevan Omniun is one of the best shoes for outside activities. It's designed with holes on the side to allow for air circulation making it a great shoe for any hot summer season. One thing that impresses people about the Omniums is the simplicity in design. It is not exaggerated, so it pulls off a classic look when worn with casualwear. The shoes are ultra lightweight, unlike many water shoes that make you feel like you're carrying a load on your feet. They're made from a very cool leather that is water-resistant. A truly great choice of shoe to add to your summer collection.
8. Merrell All Out Blaze Aero Sport
This is the type of shoe that's incredible for all terrain. It is designed for intense physical performance on any terrain. They're made with high-quality soft leather that can handle getting wet though not for an extended time. It's one of the few shoes designed with 100% vegan-friendly materials. That's a major feature that's been making them fly off the shelves. The shoes are designed with large tongues to keep unwanted debris and water out and they keep the sneaker watertight. For easy access, the sneaker comes with a pull-loop located on the heel. For those active sneakerheads, these are ideal, when you're planning a hike, the shoe's steel-toe type bumper protection will come in handy.
7. Mohem Poseidon
This is not just another water shoe but definitely considered a trendy fashion this year. These are often mistaken for a classic loafer. They are casual yet stylish, and definitely deserve to be added to your closet. The shoe is ultra-lightweight and can be worn the whole day comfortably. One thing that captivates us about these shoes is the perforations all over the upper surface. The little holes make it very easy to drain water and improve air circulation to ensure your feet have a healthy environment. The shoe provides an excellent grip on sand and concrete. Mohem Poseidon makes a great choice for swimming and kayaking and other water activities.
6. Aleader Slip On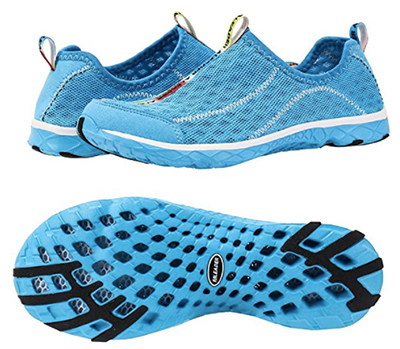 If you are looking for sophisticated and classy footwear, then the Aleader Slip On is precisely what you need this summer. The shoe rocks a sleek and supportive style that makes them stand out from the competition. The shoe is designed with a four-way-stretch upper fabric that allows for a tight fit and solid airflow. If you have a problem with closed shoes due to odour, Aleader Slip On is the perfect shoe for you.
5. Speedo Hydro Comfort 4.0
Designed and manufactured by the speedo company, Hydro Comfort is a classic shoe that most are adding to their summer collection. Versatility is the main feature that's impressed the sneakerheads. You can sport your Hydro Comforts for various activities such as hiking, fishing, kayaking, and more. If you're often found near rocky terrain or rivers over the summer, this is the perfect pair of shoes for you. They are designed with a high-quality rubber outer sole for grip, making them a great option for outdoorsy activities. They still have a very casual vibe, thus you can wear them hiking during the day and dinner at night.
4. Columbia Drainmaker III
Apart from being your typical water shoe, Columbia Drainmaker III has been configured to resemble a normal sneaker. The versatility seen in this shoe is the main reason why they're increasingly popular this year. With the numerous large drainages ports in the heel and forefoot, these have become one of the best full-immersion choices. The heel-tub tabs make them easy to slip onto even wet feet. It's a lace-up style shoe, thus you can easily control the tightness and ensure they stay put.
3. Sperry Top-Sider Flex Deck
If you are a water sort enthusiast, then we have something great for you. The Sperry Top-Sider Flex Deck is new to the streets and already has a name for itself. Another shoe with superb empty features, this show is bound to succeed in any aquatic setting. It's designed with quick-dry mesh on the upper, which allows the water to constantly drain out easily. The shoe is lace-up as well so you can tighten it to ensure that it holds firmly to the feet. The sneaker is also super lightweight in that it will float on water if somebody loses a shoe by accident! It comes in a vast range of colours for you to select from too!
2. Crocs Swiftwater Sandal
Expect nothing but extreme performance from this shoe. Designed for extreme conditions, this aquatic shoe is the perfect addition to your summer collection. If you are planning a hike, canoeing, or partaking in any other place with extreme conditions, this is the shoe to wear. It's designed with super durable yet soft leather that provides the needed comfort and safety for your feet. You'll be impressed by the high quality of the thick and durable rubber sole. The hard toecap helps to ensure that you are safe from injuring your foot. It's also available in a range of colours.
1. Astral Buoyancy Brewers
Astral Buoyancy Brewers is at the very top of the list of our top-rated men's water shoes 2017. The fact that they are designed to resemble normal everyday sneakers makes them the most versatile and trendy water shoes on the market. The shoe is designed with kayaking and canoeing in mind but can also be used for numerous aquatic activities. They're quick drain and dry features are what makes them so popular and trendy with water sports enthusiasts. The perforated mesh holes allow for adequate air circulation to cool the feet in hot weather. They are also designed with a high-quality rubber outer sole that has amazing traction on wet surfaces like slippery rocks.  Astral Buoyancy Brewers are lightweight, and come lace-up style. The Brewers are fantastic shoes that we highly recommend to anyone planning on enjoying their summer surrounded by water.
Reference
•    https://wiki.ezvid.com/best-men-s-water-shoes