There are few things more comfortable than a brand new pair of sneakers. It's really quite interesting how the sneaker culture has infiltrated and redefined the fashion industry. Although they've mostly been associated with casual everyday routine, they now elude a great sense of fashion for the wearer. Some of them are extremely sophisticated in their design and can really help the wearer pull off a classic and elegant look. With such a vast variety of brands in the market, it can be difficult to find the "best" sneaker. That's where we come in! Worry no more; if you are trying to find the top fashion sneakers to shop this year- we've committed to the task and we've rounded them up for you.
[toc]
10 Best Fashion Sneakers of 2017
1.

 

Gucci Ace Low-Top Flames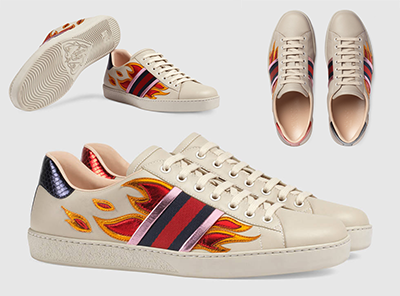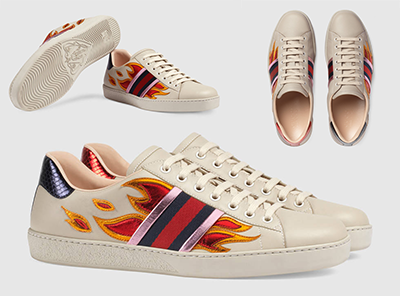 Designed by Italian fashion powerhouse, Gucci, this is an iconic pair of sneakers that's worth every cent.  In fact, it's considered a must-have in any sneakerhead's collection. Low-Top Flames sport a very sophisticated design that makes them really stand out as a fashion sneaker. What's so captivating about them is the embroidery work – the metallic fiery flames are a classic and undeniably eye-catching design that is very rare to find when compared to Gucci's competition. The shoes are constructed with soft, high-quality leather and flat rubber soles. The sneaker comes lace-up style with stitching across the bottom, thus you can easily adjust the tightness when wearing, like most.  These shoes come in a range of hues from black to white amongst other vibrant colours.
2.

   

Maison Margiela Coated Knit Sneakers
Another amazing fashion shoe to add to your 2017 sneaker collection; this sneaker combines a very unique upper half with a thick white rubber sole to pull off a classic look any sneakerhead would love. You can easily identify the shoe from the scales all over the upper half. Unlike most sneakers, they are designed to have a personalised feel that makes each pair one-of-a-kind. The shoe is dipped in paint and left to dry, which is what gives it the unique crackling look.  It's a great up-and-coming fashion sneaker, and you can also find these in a range of colours, with black and white hues being the most common.
3.

   

Gosha Rubchinskiy x Fila
The sneaker is a clear definition of class and fashion. Gosha Rubchinskiy x Fila sneakers give off a classic vibe that will enhance one's simple outfit in a great way. What makes the shoe extra trendy are some of the amazing features it's equipped with. First, the quality of the material used is absolutely top notch. They're crafted with the highest quality soft leather on the upper half and the leather is styled with contrast suede that wraps around the back of the shoe and it brings out a really clean and vibrant colour combination. The flat outer sole is made from high-quality gum rubber that's very comfortable for walking. The toe of the shoe is designed with perforated holes to enhance breathability while adding a sporty look to an otherwise classy and fashionable shoe.
4.

   

Common Projects Blush Achilles
This is a very classic fashion sneaker that undoubtedly adds extreme value to any sneakerhead's collection. The shoe is made from soft, luxurious Italian leather making it very comfortable to wear. The upper leather is stitched to it's very high-quality-for-it's-kind flat rubber sole. The shoes have been proven to be extremely durable so they'll serve you high fashion realness for a long time. They are lace-up style, thus you can easily adjust the fit to your preference. The sneaker is available in high, mid and low-cut versions for you to select from. Common Projects Blush Achilles come in a range of hues, codes and sizes. You can also give your pair a revamp if they get a little worn in since each pair comes with spare laces. It's truly a great sneaker to add to your collection. No brainer.
5.

   

Brain Dead x Vans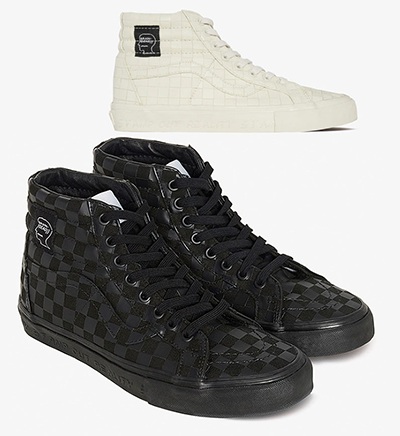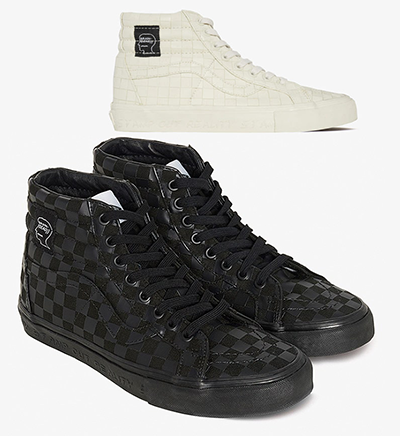 Brain Dead x Vans is an iconic fashion shoe that's totally worth featuring in your sneaker collection. One thing that really stands out about this shoe is the distinct style it mimics. The shoe is designed by Vans in collaboration with the well-known men's contemporary fashion brand called Brain Dead. It borrows blueprints heavily from the iconic Vans Sk8-Hi. The Sk8-Hi has been reworked to create these radical sneakers. The shoe is available in two colours: black and green. You can easily recognize the sneaker from the iconic Vans checkerboard pattern on the entire upper leather. As usual, the shoes are lace-up style and come with a very durable rubber sole. This is definitely a classic fashion shoe that is an inexpensive must-have in your sneakerhead collection.
6.

   

Reebok x Vetements InstaPump Fury
If you're a radical sneakerhead then you are bound to love the flamboyancy of the graffiti sported on these slip on sneakers. A version 2 of the ever-celebrated InstaPump shoe, this is the perfect sneaker for summer. The sneakers feature the standard instapump hallmark that give them the inherently eye-catching appearance we all expect. The shoe is again constructed from high-quality white leather that creates a strong contrast, which is needed against the intensity of the vibrant graffiti and doodles. Equipped with a high-quality rubber sole, these shoes are very comfortable for long distance walking or day-tripping. It's a capturing sneaker that will transform your 2017 sneaker collection.
7.

   

White Mountaineering x Adidas NMD Trail
This sneaker started trending at the end of 2016, and has continued straight into 2017 and it showing itself as one of the most preferred sneakers of the year thus far. One thing that's enabled the collection to continue trending into the new year are the fresh revamps and reworking that they release throughout the season. In this new edition, we see a collaboration between Adidas and a Japanese giant, White Mountaineering. WM worked on the Adidas NMD R1 for while and they pulled off a stunning, cool, new appearance that was very well received and positively reviewed by customers far and wide. The shoe itself is made with soft, high-quality leather and a durable flat rubber sole. Most are reeled in by the captivating colour combination – you can go for the black/white or red/white colour combinations. All in all, this shoe is a great addition to your closet.
8.

   

Buscemi 110MM Black/White/Red
Everyone loves the colour combination found on this particular sneaker. The shoe is designed in black, red, and white on the upper leather and is designed in a very abstract and creative way.  The shoe is made from very supple and soft Italian calf leather that gives it a wildly plush feeling, sported with a high-quality flat rubber sole. White is the dominant hue, making them a bright and clean shoe over-all. This silhouette is designed with perforated leather around the toecap to allow for the airflow and a sporty vibe.
9.

   

Rick Owens x Adidas Walrus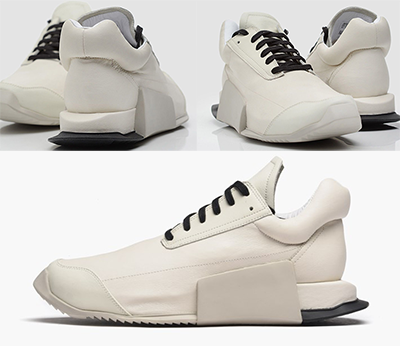 Designed by Rick Owens in partnership with Adidas, this is a striking shoe to add to your closet. The Walrus is a geometric sneaker that's been designed for casual wear, and it will be a great shoe to show off in the summer. The shoe is constructed with high-quality sheep leather upper, available in different colours; white, orange, black and brown being the most common. The blocky middle and extended heel are the features that attract most of the shoppers. The sneaker is complemented with distinct laces to pull off an even stronger contrast. They may look unconventional but they fit like a glove with the soft padding on the inside ensuring a comfortable fit.
10.

   

Valentino Camustars Rockrunner
This is a versatile sneaker that's mostly designed for sportswear. In fact, they are referred to as running shoes, and they've very quickly becoming popular with the youth sneakerhead crowd. The sneaker is designed from eye-catching multi-coloured leather. It combines a wild pop of patterning with bright red or blue contrasts on the heel counter. It's a lace-up style, thus you can tighten them for a firm fit to the feet. The inside of the shoe is designed with soft padding to ensure a snug, comfortable fit whether they're used for sports or just hanging around. It's a great pair of fashion sneaker to add to you 2017 summer collection.
Reference:
http://www.complex.com/sneakers/2017/01/2017s-top-20-fashion-sneakers/valentino-camustars-rockrunner